Inconsistent performances have left Real Madrid 11 points off the top of the table heading into an El Clasico that could see them fall 14 points behind Barcelona. With a tough draw against PSG in the Champions League looming, this will be a vital game if Madrid want to ensure they will be competing for at least one major trophy come the end of the season. Perez has been known to make hasty decisions – remember the Gal
á

cticos? – so the players and Zidane better step up quickly or Perez may be making some major moves this summer.
---
Roll back the years to 2000. Perez steps in as President of Real Madrid for the first time and brings with him his exciting transfer policy. A new superstar every season — what could possibly go wrong with that? In all fairness to Perez, his tenure did get off to a good start. With 2 La Liga titles and 1 Champions League title in his first 3 seasons, the Real Madrid superstars, popularly known as the Galácticos, became a hit with the Madrid faithful. But in 2003, Vicente Del Bosque was fired for what was widely believed to be due to a political split within the club and this marked the beginning of the downfall of the Galáctico era as they failed to win a trophy for the next 3 seasons. Perez's refusal to address the defensive issues at the club massively harmed the team. Further, no manager was able to handle the egos of these Galácticos after the departure of Del Bosque. Naturally, this led to tension in the dressing room. Eventually, Perez resigned and his tenure came to an end.
"There was a negative tone to the word galáctico. A term we never chose to describe ourselves. We knew that there was already pressure at Real Madrid but over time that label heaped even more pressure onto us." – Ronaldo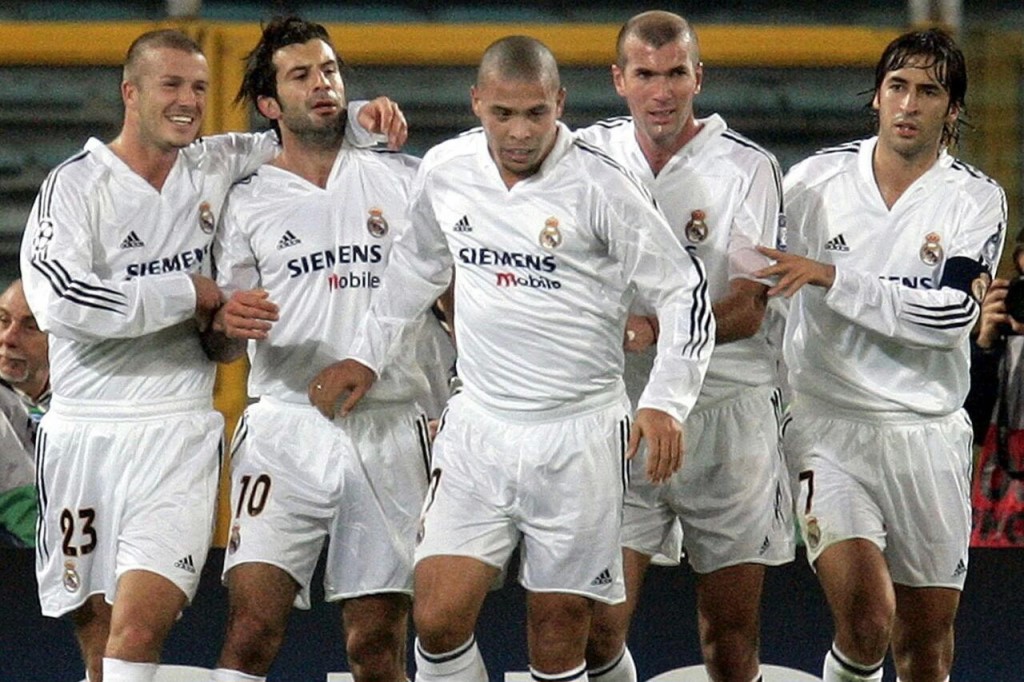 It's too soon to say if we're gonna see a repeat of such a decline with Zizou's men, but that being said, it would be foolish to consider it impossible. This time around, in Perez's second tenure as President, there is no promise of a  Galáctico every summer. However, this is a squad that is already stashed with superstars. Though it's unlikely that we will witness a carbon copy of the first  Galáctico era, there are a few notable similarities, with the overload of footballing talent being the main one. And just like the first Galáctico era, crisis has hit Los Blancos after multiple seasons at the top.
Although there were no  Galáctico signings this summer, Real Madrid had a strategically good transfer window. Dani Ceballos and Theo Hernandez were signed, while Vallejo and Llorente returned from their loan spells. This provided the squad with much needed depth. However, Real Madrid lost Morata to Chelsea, James Rodriguez to Bayern, while Pepe and Mariano Diaz also left the club to Beşiktaş and Olympique Lyonnais respectively. Between the 4, the loss of Morata has probably proven to be the biggest miss. Despite Benzema having proven his worth at Madrid, there is no denying that Madrid can use a player with Morata's poacher mentality. Morata was Real Madrid's second highest scorer in La Liga last season, with Cristiano grabbing the top spot. More importantly, his scoring frequency was second only to Messi's in the entire league. This season, Benzema and Mayoral are the only centre forwards at the Bernabeu, and neither of them offer the same goal threat. It's also worth noting that Mariano Diaz has scored 12 goals in his 17 league appearances for Lyon this season. Perhaps he would've been suitable to fill in Morata's boots? Unfortunately for him, he wasn't given the opportunity. Icardi and Werner have been linked to Madrid and it will be interesting to see if Zidane feels the need to sign one of them in the winter window.
Cristiano's consistency in front of goal has also been called into question this season. The 5 time Ballon D'Or winner has managed only 2 goals in his first 10 league appearances, far from impressive by his usual standards. His finishing seems to lack the lethal touch we're so used to associating with the Portuguese superstar. On average he's taken 5.2 shots per game, which is better compared to his 4.4 of last season. However, this hasn't helped his scoring by any means. He did score an impressive brace in Real's last home game against Sevilla, taking his goal tally in the league up to 4 and scored the winning goal in the Club World Cup final this past weekend. Time will tell if that is an indication of a change in fortunes for him in the league.
On the other hand, his form in the Champions League has been in striking contrast to his form in La Liga. Cristiano bagged himself 9 goals in 6 games making him top goalscorer of the competition so far. In spite of his performances, Madrid were only able to muster a second place finish in the group. The 3-1 loss away to Tottenham proved to be the deciding factor. That loss at Wembley was arguably Los Blancos worst performance of the season. The players seemed over confident and lazy on the pitch, and even the likes of Kroos and Modric made multiple errors throughout the game. Providing his players the motivation to keep doing better and to not lose their focus is probably Zidane's biggest challenge right now. After winning to back-to-back Champions League titles, it's natural that a bit of arrogance creeps into the minds of the players. Preventing it from showing on the pitch is absolutely essential if Los Blancos wish to continue their dominant run.
Last season, Zidane was able to field his 'B' team when he felt the first team regulars needed a rest. Morata, James & co. would step in, and more often than not, get the job done, when called upon. This rotation was much needed to guarantee the fitness of an aging first XI. The benefits of this were most notably seen in Cristiano, as he found his best form during the latter stages of the season. With the team sitting in 4th place at almost the halfway point of the campaign, it doesn't look like Zidane has the luxury of being able to rest his key players this time around.
This Saturday, Los Blancos will face Barcelona at the Santiago Bernabeu. This Clasico will be crucial in understanding the direction Madrid are going to take this season. A loss would virtually put them out of the title race. It wouldn't be crazy to say that a loss could also result in the sacking of Zidane (Perez has been known to fire managers mid-season). A few fans have already raised question marks over Zizou's capabilities as a manager, with Guti and even Xabi Alonso being named as potential replacements. In fairness to Zidane, he's managed to win 8 trophies in his 2 years in charge at Madrid and you'd think that factor alone should allow him to be trusted with the job at least till the end of the season. But Madrid are a demanding club, and Perez is an unpredictable President. Any manager who can't deliver consistently will always be under pressure at the Bernabeu.
Post World Cup 2018, if Xabi Alonso makes himself available for the coaching spot, we have to take that risk. Zidane is bound to coach France either way. The risk Laporta was willing to take on Pep, is what Pérez has to take on Alonso.

— Xav Salazar (@XavsFutbol) December 14, 2017
As mentioned previously, Real have been dealt a very difficult draw with Paris Saint-Germain in the round of 16 of the Champions League, which means that qualification to the quarter finals will certainly not be a given. That means a win in El Clasico this weekend is almost a necessity if they want to ensure they are fighting for every major trophy this season. But, if they lose this weekend, that leaves a lot riding on Champions League success, which is a very difficult ask. Clasico's are always important, but this one has more significance than most for Real Madrid. Win? And Real Madrid are back in the title race and will have their league confidence restored. Lose? And this season could very well be one to forget for the Madrid faithful.