"I wish you success and the best of luck going forward. Continue doing your thing and scoring goals."
– Neymar to Vinicius Jr.
---
Date of Birth: July 12, 2000 (16 years old)
Nationality: Brazilian
Position: Winger
Club Appearances: 0
International Appearances: 22 (19 goals), Brazil U-17's
EiF Ability Rating: 59.5
*EiF Ability Rating is a representation of a combination of the player's current ability and potential ability. It is determined by multiple rounds of voting, and then an addition of the scores given by each judge. The maximum score a player can have is 80.*
---
This is the beginning of EiF's 2017 22under22 project, a countdown in which we will reveal the top 22 players in the world who were born no earlier than 1995. We begin at #22 with the list's youngest player: Vinicius Jr. Despite being merely 16 years old, the Flamengo wonder kid has quickly risen through Brazil's youth ranks and is widely tipped to be one of world football's next superstars…
#22: Vinicius Junior : Flamengo/Brazil#22under22 pic.twitter.com/RJIWjdUN3w

— EiF (@EiFsoccer) April 9, 2017
He may only be 16, but Vinicius Jr. is a name that football enthusiasts around the globe will surely have heard over the past few months. Despite not having made a single appearance for Flamengo's senior team, the Brazilian youngster has been highly impressive so far in his international appearances for Brazil's youth teams as well as Flamengo's youth ranks. It might be early days, but Vinicius Jr. has shown every sign so far that he will not be another Brazilian youth talent who fails to live up to his potential.
---
Strengths
---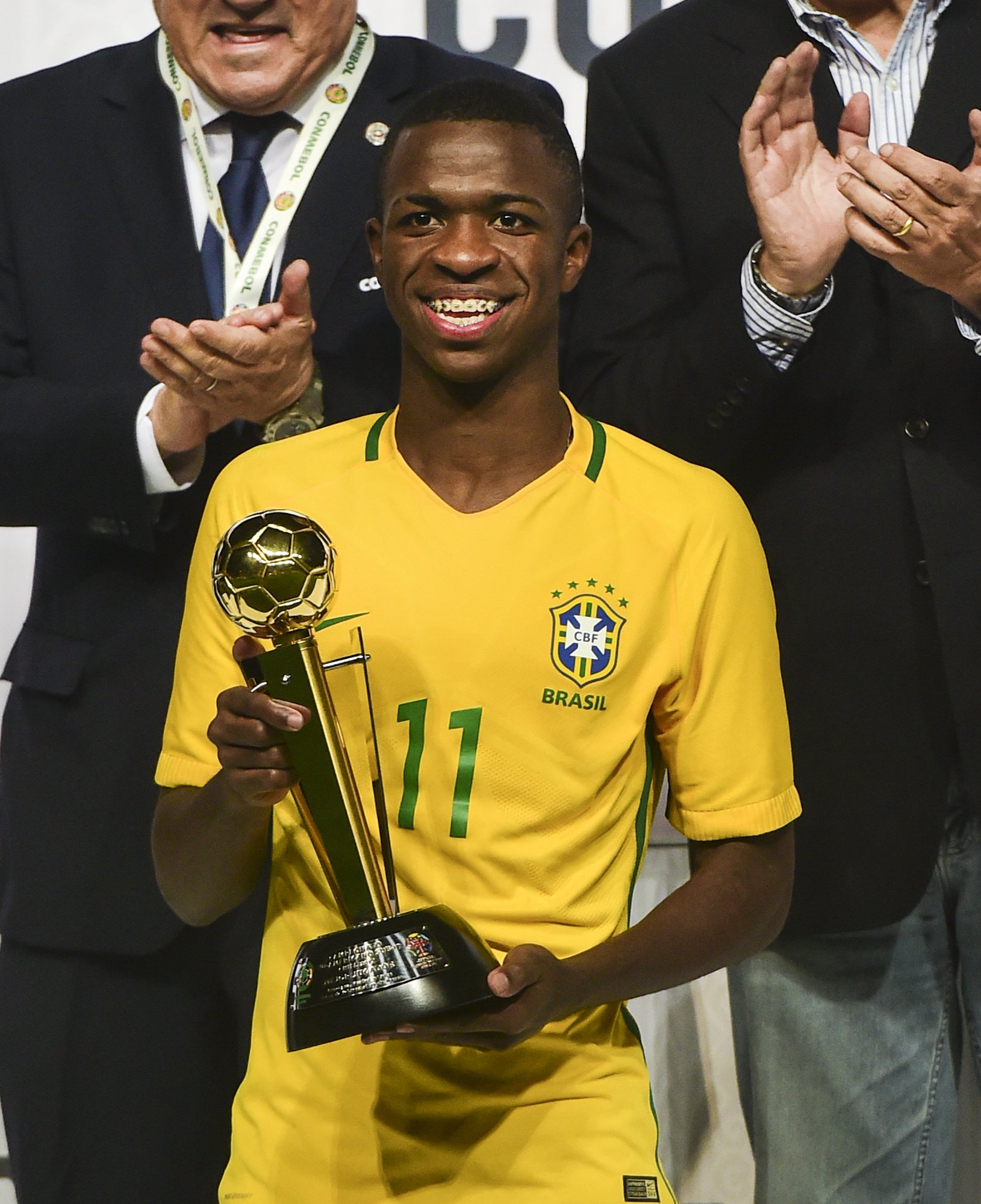 Vinicius Jr. scored 7 goals to help Brazil win the 2017 U-17 South American Championships
Photo: (Coluna do Flamengo)
Where to begin? Describing Vinicius Jr.'s various strengths would take quite a bit of space – the kid is that good. Instead, we will highlight two of his core qualities that make him Brazilian football's 'next big thing.'
It only takes a few minutes of watching Vinicius Jr. to realize he's quite the special player. Amongst his many strengths, his dribbling and natural ability stand out the most. Vinicius Jr. makes the game look easy, in the same fashion that most of football's greatest players do. He is able to beat defenders in a variety of ways, including utilizing his pace, his deceptive movement, and his quickness and creativity on the ball. His close control and flashy skill are a joy to behold, and have drawn comparisons to a young Neymar. Although he has only been seen on the youth stage so far, Vinicius Jr. has demonstrated enough consistency and intangibles to truly make him worthy of all the attention he has been getting.
Vinicius Jr.'s second core strength, which also happens to be one of his shortcomings, is the fact that he is only 16 years old. While his age brings about problems and risks that all young players must deal with, the young Brazilian's promise provides plenty of cause for optimism. Just like Neymar and other Brazilian wonder kids to come before him, Vinicius Jr. appears to have a ceiling that can reach unimaginable heights, especially considering the fact that Vinicius Jr. is flourishing at an even younger age than most Brazilian starlets.
---
Weaknesses
---
Vinicius Jr. is attracting the attention of fans and scouts alike with his electric performances
(Photo: Flamengo Hoje)
It's hard to pinpoint weaknesses when it comes to a 16-year-old player – not because they don't exist, but rather because at such a young age there is still much room for improvement. Having said that, there are two main deficiencies in his game that Vinicius Jr. should be looking to address as he develops over the next few years.
First and foremost, Vinicius Jr.'s main weakness at the moment is his tendency to become a bit selfish at times. While this is not always a problem due to his ability to take on defenders, it is something that is not sustainable as he progresses through the ranks not only on the international stage but also on the domestic front. Just like many Brazilian starlets that came before him, Vinicius Jr. possesses all the tools a player could want. He will realize, however, that in order to become a truly complete player it is imperative that he becomes a team player despite his individual ability. This is not to say Vinicius Jr. is selfish – he is not. He is simply a 16-year-old kid who will figure out that he cannot always do it all himself.
Believe it or not, the second main flaw involving Vinicius Jr. may actually be his age. While the fact that he is only 16 is obviously a positive in many ways, many players in the past have shown that success at a young age does not always develop into a successful career. As someone who was born in Santos, Brazil, I still remember the days when the likes of Robinho, Diego, Ganso and Neymar brought countless years of joy to myself and other 'Peixe' fans. Unfortunately, however, only Neymar truly lived up to expectations following a move to Europe (it must be said Robinho and Diego also enjoyed decent, yet underwhelming, spells in Europe). Whether this is a case of expecting too much from players who are yet to develop or a general trend of Brazilians losing focus when they start getting paid the big money is a true enigma. Overall, from the interaction I had with the young star this year and from watching television interviews, Vinicius Jr. seems like a perfectly grounded human being with the correct mentality; the key for him is to remain focused.
---
Vinicius Jr. might have come in 22nd place in this year's list, but we here at EiF have no doubt that he will be near the top very soon. With interest from European giants (including Barcelona) higher than ever, Vinicius Jr. could soon be moving to the biggest stage in world football despite never having made a senior appearance. Vinicius Jr. reportedly has a buyout clause of £26million in his contract, but considering his potential and the extravagant nature of the current market, this will likely not do much to scare off potential suitors. Vinicius Jr. is without a doubt one of football's brightest prospects at the moment, and it will be exciting to see if he will be able to fulfill his massive potential.