Inspired by my recent contributions to Eif's MLS Transfer Shortlist (and by Ashwin Raman), I've decided to continue my scouting parlay as a full-blown article. One of England's most intriguing players – Fernandinho – has had a magnificent season as Manchester City's #6, but he's not getting any younger. I will explore possible replacements for the Brazilian in great detail. Enjoy!
We've passed the halfway point in the Premier League, and one thing remains true: Manchester City are the best team this league has seen in years. Not only have Pep Guardiola's men maintained a nearly unbeaten record, but they've managed to do it while enthralling the nation with fantastic, possession-oriented football. But you've heard all of this dozens of times. For a club like Manchester City, it's imperative to not become satisfied with the strength and depth of the squad, no matter how good it is at this point.
I've watched every City match this season with great awe, almost like a film connoisseur watching a Quentin Tarantino film. Kevin de Bruyne, Raheem Sterling, and Ederson have rightly taken much of the applause. However, defensive midfielder Fernandinho has been one of Guardiola's most important players and, at 32-years-old, doesn't have much of a natural replacement on the bench. Yaya Toure is past his prime and Ilkay Gundogan performs better as a more advanced playmaker. Manchester City need a backup to control the space between defense and midfield. So let's take a scouting trip to see if we can help out the oil-rich City find the perfect Fernandinho backup and eventual replacement.
Fitting a Mold
Before delving into all of the possible purchases, we must first understand what Fernandinho's role in the team is. The Brazilian is the versatile anchor in City's midfield. When building up from the back, Fernandinho drops in between the two center-backs, filling in the gap of space left when they (usually John Stones and Nicolas Otamendi) spread out wider. He must remain extremely calm when under pressure and use his vision and technical ability to find a passing option.
When the team moves forward, Fernandinho must roam into space and offer himself as a passing option. If he gets the ball, the Brazilian usually has the quality to find a long or short passing option. In his tactical analysis of Manchester City, Youssef Amin noted that Fernandinho "dictates from the quarterback role, releasing both wingers with pinpoint through balls, and often looks to play the vertical pass even when the passing lanes in midfield are shut." He's the assured, veteran presence in City's central zone and is more important to the team's success now than ever.
As if to confirm Fernandinho's importance to Pep Guardiola's squad, fellow manager Jose Mourinho had his players
specifically mark
the Brazilian from receiving the ball through much of the Manchester Derby.
We can gather that Fernandinho is a carpenter with many tools in his toolbox — smart defending, composed ball control, and great passing. He's not a very athletic player relative to many other defensive midfielders, but that often doesn't matter due to City's possession-based style. As of now, Fernandinho doesn't look like a man being forced out of the lineup, but he's the oldest player in Guardiola's preferred eleven. A younger player should be brought in to learn under the Brazilian and eventually take his place as a versatile number six.
Criteria
First things first, let's note that Manchester City are one of the best financially positioned clubs in the world, so there's almost no player that should be discounted from a potential short list. That being said, there are a few general requirements that can narrow down our list immediately.
1. Ability & Reputation
Fernandinho is not the most valuable player on the pitch for Manchester City and, thus, it is possible that he is completely replaced in the coming year. That being said, for the purposes of this scouting article, I am trying to find a long-term replacement for the midfielder. This means no world-class players like Sergio Busquets who wouldn't be satisfied playing a rotational role.
2. Age
Normally, I would recommend a player under 23 or 21 if we're looking for a long-term solution, but Manchester City are in a rare position. They can afford to buy players frequently, so the 'long-term' solution may only need to play well for a few seasons. I'm capping the age limit at 26, where most players are entering their prime. No age requirement will be set; if a youngster is good enough, he deserves to be scouted.
3. Location
Manchester City has become a global brand with a massive reputation. Txiki Begiristain and the transfer board have a responsibility to sign players with a reputation, players who can be easily marketed. Therefore, City probably aren't going to look to the Bulgarian leagues for a first-team player. Only the top seven European leagues will be included in the search, with a few exceptions.
Fernandinho was bought from a Ukrainian club, so it's only fair to look back again to see if we can't find a replacement there. Also, Belgium and Holland are notoriously good at producing young talent, so we may find some players there as well. Finally, non-European leagues like the Brazilian Serie A, Argentine Superliga, and Mexican Liga MX have historically produced talented players for small fees. All in all, this is what we're looking at for our scouting scope.
Shortlist
Looking at our list of 30 players, we have a good mix of standout players and those that have been flying under the radar. However, I've mentioned that Manchester City are going to want to sign someone who has a pretty decent reputation. We can eliminate a lot of names right off the bat.
Brazilian prospect Wendel just recently completed a move from Fluminense to Sporting in Portugal, so we can eliminate him easily. PSG midfielder Adrien Rabiot can also be excluded. The 22-year-old's contract ends at the end of next season, but I don't see any reason he would rather be on City's bench than starting for one of Europe's best teams.
Bryan Cristante — a Benfica midfielder on loan to Atalanta — is a good player, but not quite what City are looking for. He's played in a slightly more advanced role, sometimes even as an attacking midfielder, and isn't exactly setting Serie A alight with his performances. On the other hand, Fabinho is a little too high-profile for this role. Though he has been targeted by many big Premier League clubs recently, the 24-year-old would cost a pretty penny and definitely wouldn't want to spend his time sitting on Manchester City's bench. Another Brazilian midfielder, Thiago Maia, is a fantastic prospect at Lille. However, he just moved to the French club last year and I am a bit skeptical of how good his passing would be at a high level.
Another hyped-up prospect, Argentine
Santiago Ascacibar
, is in a similar position. The defensive midfielder just moved to VfB Stuttgart last year and doesn't exactly fit the technical profile I'm looking for. Along the same lines, Mexican
Guido Rodriguez
has recently transferred to Club America and has yet to light the world on fire.
Volodymyr Shepelev
, a Ukranian prospect at Dynamo Kyiv, doesn't have the reputation that we're looking for.
The reports that Rodrigo Hernandez of Villarreal has agreed to join Atletico Madrid really put a damper on the chances of him moving elsewhere, and fellow La Liga star Geoffrey Kondogbia doesn't seem to be the type of player City would be after. The Frenchman is good, no doubt, but his mobility and comfortableness in the Fernandinho role are under question. In the same vein of thought, I am going to count out Porto's Danilo Pereira and Sporting's William Carvalho due to age and playing style.
Velez Sarsfield's midfield prospect Santiago Caseres is promising, but his profile is not large enough for the transfer City would want to complete. In a similar vein of thought, Alexis Blin of Toulouse doesn't have the reputation that we're quite looking for. Finally, Argentine Lucas Romero and Colombian Wilmar Barrios are already 23 and 24 respectively and are yet to play outside South America.
The Long Shots
Jorrit Hendrix — Eredivisie leaders PSV have a fantastic midfielder on their hands in Dutch international Jorrit Hendrix. The 22-year-old grew up in the club's youth ranks and has developed into quite the player for the first team, controlling the midfield from deep. Hendrix likes to get forward, though, and I'm not quite sure if that's the type of player that fits the Fernandinho mold. Nevertheless, it shows that Hendrix has confidence and ambition, and his composure when under pressure is something to take note of. His range of passing is good, not great, but I have an inkling feeling that the Dutchman is simply not quite talented enough to make it in a Pep Guardiola side.
Matías Kranevitter — The Argentinean international recently moved to Zenit St. Petersburg after a failed stint at Atlético Madrid, but his stock still remains high. At 24, Kranevitter is at a stage in his career where it's either up or down — if he performs in Russia, the door will swing wide open for a move back to a big European club. However, there's a risk of the opposite happening and his career spiraling downwards into oblivion. After watching him, I am of the opinion that the former is due to happen. Matías is phenomenal at defending, which is a big part of the role I'm searching for. His passing leaves a bit to be desired but is still great for the level he's playing at.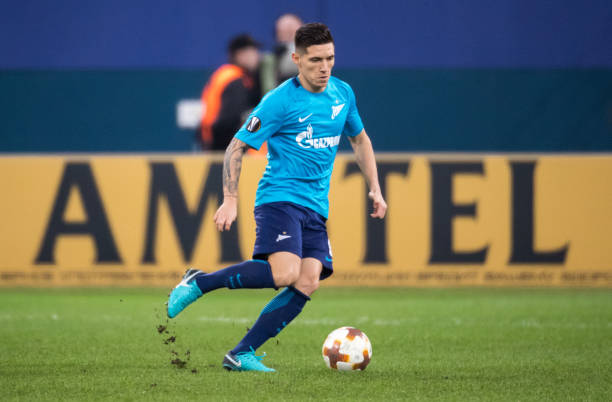 Orbelin Pineda — In terms of pure talent, there may be no young player in North America more talented than Mexican international Orbelin Pineda. At 21, Pineda is tearing up the Mexican Liga MX with Guadalajara. Manchester City have shown that they're willing to scout in Mexico after they nearly signed Hirving Lozano last summer, so I'd be surprised if Pineda isn't on a shortlist somewhere in Manchester. He's a gifted dribbler and true athlete, showing his quickness and skill when beating defenders and running into space. Every advantage has a disadvantage, though, and Pineda's aggressiveness on the ball would hinder Manchester City's defensive structure when committing men forward in attack. For now, I would not pull the trigger on a transfer until he refines his game a bit more.
Sander Berge — A top Norwegian prospect playing in Belgium, Sander Berge is Genk's midfield maestro. At only 19, Berge has proven himself as a great creator at club level. His passing is phenomenal and his close control helps get him out of pressure quite often. There are some questions about his ability to control the space between defense and midfield — he often roams forward very far. However, his physical presence and athleticism make him an imposing figure in front of the backline. He wouldn't be my first choice to replace Fernandinho as there are even some other players in Belgium/Holland that are more natural in the position, but Sander Berge is nevertheless a great option.
Possible World-Beaters
Leander Dendoncker — Before doing extensive scouting on the Belgian, I thought I'd be putting him in the 'Long Shots' category. However, the hype surrounding the Belgian becomes clear after watching Anderlecht's anchor. The versatile 22-year-old is by far and away the best player in the Belgian Pro League at the moment; his all-around contribution is unlike many other youngsters in Europe. Hard tackling, great passing, and an athletic play style are the attributes immediately noticeable about Dendoncker. Like any good ball-winning/controlling midfielder, he is adept at winning back the ball and quickly turning defense into attack with a swift pass or dribble. Leander has been on the radar of plenty of European teams over the years and, now that he's growing into his potential, it's time one of these clubs makes a move.
Rúben Neves — When one of Portugal's top prospects moved to Championship side Wolverhampton Wanderers last summer, many were extremely shocked at the move. However, a quick brainstorm would lead one to believe that a big reason he would make that move is to get one step closer to joining a large Premier League club like Manchester City. Neves is only 20 and is having a phenomenal season with Wolves, picking up right where he left off in Portugal. Cristiano Ronaldo's international teammate must take pride in his long-range passing ability because he's one of the best in England at it. Neves is still somewhat raw in terms of his all-around ability, but he remains one of the world's biggest midfield prospects and would be a great backup to Fernandinho.
Midfielder: Rúben Neves – Many were confused when they learned that Neves was heading to the Championship with Wolves, but he'll be in the Premier League soon enough as his stellar midfield play has helped Wolves dominate the Championship thus far.pic.twitter.com/hxZP9svq5a

— EiF (@EiF_Highlights) January 12, 2018
Safe Choices
Oriol Romeu — When Pep Guardiola was on his way out as Barcelona manager, a young midfielder named Oriol Romeu was doing the same. Now 26, the Spaniard moved to Chelsea to further his career but wasn't able to truly showcase his talents until joining Southampton. As Victor Wanyama's replacement, Romeu has proven himself as one of the club's most important players. Often times played as the deepest midfielder, he has adapted well to multiple systems during his time in the Premier League. Romeu's well-rounded ability as both a ball-winner and controller make him appealing as a do-it-all defensive midfielder. Sure, he's not the young player many would hope for and is not as technically gifted as some players on this list, but Oriol Romeu understands the 'Barcelona way', which is a big first step to playing in a Pep Guardiola system.
Leandro Paredes — Known far and wide as one of the best long-range passers in the world, Argentine phenom Leandro Paredes has enjoyed himself at Zenit St. Petersburg since moving from AS Roma last summer. At 23, Paredes is no longer a high-potential teen but a nearly finished product. The deep-lying playmaker can pick out some phenomenal lofted passes to wingers and direct balls to forwards with ease. Paredes is quite athletic and often stays deep, so he should have no problem covering defensively. However, as much as the Argentine would be a magnificent player in City's squad, I doubt Zenit would release him for less than a fortune.
Frenkie de Jong — By virtue of watching Ajax all season, I've been blessed with the opportunity to witness the phenom that is Frenkie de Jong. At only 20, the Dutch midfielder is already one of the most naturally talented players in Holland. De Jong's awareness means he can slot in across the spine of a team, from attacking midfield to center-back. His ball-carrying abilities are second-to-none; Frenkie easily evades defenders with the swiftest of movements, making dribbling look easy. Defensively, de Jong is not the most aggressive or physical player, but he has proven capable as a libero center-half for Ajax this season. De Jong just sign a contract extension until 2022 and would now cost a pretty penny to acquire, but I have no doubts that he would be an adequate replacement for Fernandinho in the near future.
Defender/Midfielder: Frenkie de Jong – Able to play as a 10, an 8, a 6, or (as we've seen) as a "Beckenbauer-esque CB," Frenkie is truly one of the most exciting and interesting midfield prospects and is undoubtedly Holland's best midfield talent.pic.twitter.com/1OOaknp3wW

— EiF (@EiF_Highlights) January 12, 2018
Fred — Perhaps the most obvious choice on this list to replace Fernandinho is his Brazilian teammate, Frederico Rodrigues de Paula Santos — Fred. Shakhtar Donetsk's 24-year-old midfield star has followed a similar career path to City's Brazilian midfielder, moving to the Ukrainian club from their native Brazil. Fred is not a physically imposing figure, nor is he a hard-tackler like most defensive midfielders. Instead, the Brazilian replaces strength with agility and speed. This quickness allows him to easily evade defenders when attacking and also recover rapidly when defending. Fred is a fantastic passer, especially when picking out a through ball in the middle (a good trait to have in a Pep Guardiola side). Fred isn't the flashiest option for Man City, but I'm not surprised that he's been linked with the club. He would be a great fit to backup and eventually replace Fernandinho.
Arthur — Another Brazilian midfielder who's been in the news recently is Arthur, Gremio's 21-year-old sensation. He's been linked with a move to Barcelona in the past and more recently to the Premier League, but it doesn't seem like City are very interested. I find this quite surprising because he possesses most of the attributes that would be needed to play at DM in the current setup. Arthur is extremely composed and attentive on the ball and has the flair to beat most defenders on the dribble. The soon-to-be capped Brazilian has played in a deep role for Gremio, which has allowed him to showcase his long passing ability — 4.6 successful long passes per 90 minutes. I am still skeptical of his defending, but his link-up play with the likes of De Bruyne and David Silva would be a joy to behold.
The Big Guns
Amadou Diawara — One can only watch Napoli's young midfielder so many times before begging the question "why isn't this kid starting every match?" I began asking myself the question only minutes into watching Amadou Diawara's seasonal highlights. The 20-year-old Guinean playmaker is everything you want in a regista-style midfielder: fantastic passer, smart and gifted dribbler, good defender, and great mover off the ball. Diawara burst on the scene at SSC Napoli last season, impressing everyone in Italy and beyond with his confidence in such a crucial position. I don't want to go so far as to say Diawara will ever be as good as Andrea Pirlo — the godfather of registas — but he certainly reminds me of the Italian. To further my praises, even more, Diawara is more well-rounded than Pirlo ever was in terms of overall mobility and defending.
Amadou Diawara was playing in the Italian third division only three years ago and has now garnered international attention for his seemingly massive potential. Watching Diawara complete line-breaking passes at such a consistent rate (92% total pass completion, including a nearly 70% success rate of long passes) is astonishing, to say the least. What's even more astonishing is to imagine him in Pep Guardiola's team; Napoli play a relatively similar style to City in that the players are moving fluidly and confidently to create as many attacking opportunities as possible. Diawara has only started three league matches this season and it's possible that he's looking for an opportunity elsewhere. Man City may not provide that opportunity immediately, but I have no doubt that the Guinean midfielder would be a great fit to replace Fernandinho in the near future.
Julian Weigl
— Late last year, Lebo Mwamuka wrote that Julian Weigl is the world's
"final classic regista"
. The 'classic' adjective to which he refers can be summarized as a more limited regista, meaning that Weigl is not as mobile or aggressive as a Diawara-type playmaker. Nevertheless, Julian Weigl is one of the world's best defensive midfielders at only 22 and has been linked with Pep's City in recent times. His passing is reminiscent of the most technical players in the world; the German's lofted long balls are as accurate and awe-inspiring as watching Tom Brady throw a touchdown.
Weigl has struggled with injuries as of late, but it hasn't stopped him from claiming the role of one of Dortmund's most important players. He can be compared in many ways to Sergio Busquets in the way he methodically controls the space between midfield and defense. Yet, no matter how brilliant Weigl is in a possession-based system, he has a few weaknesses. As aforementioned, he's not a very mobile player and often needs the passing to revolve around him in the middle. Compare that to Fernandinho, who is often seen roaming around the pitch, trying to create space for himself and his teammates. In addition, Weigl is not a very good defender and would be a liability when City commit bodies forward. The young German international is a luxury player, but not the luxury that Fernandinho's role affords.
Lucas Torreira — The latest talent to emerge from the depths of the Italian Serie A, young Uruguayan midfielder Lucas Torreira has gained quite the reputation due to his recent performances. At only 21, the defensive midfielder is Sampdoria's most important player. His well-rounded skill set is a joy to watch and it's no wonder that Torreira has been linked with big moves in recent months. More so than most players on this scouting list, Lucas Torreira is extremely good at defending. He's N'Golo Kanté-esque in his uncanny ability to win back the ball (nearly 3 tackles per 90) and would certainly be a fantastic fit in a destroyer role.
However, Pep Guardiola's City doesn't need a destroyer, it needs a well-rounded deep-lying midfielder. Torreira may be able to provide that; his passing isn't great, but it's certainly above average. The Uruguayan is capable of quickly recycling possession after winning back the ball himself, or even moving into pockets of space to make himself open. His close control is also great, which is crucial for retaining possession when under pressure. In conclusion, Lucas Torreira would fit in a Fernandinho role, but his play style may be better suited for a more limited role than what is required at the Etihad Stadium.
Final Recommendations
We've traversed far and wide in an attempt to find a suitable replacement for the phenomenal yet aging Fernandinho. Even though there are specific criteria and requirements for a backup/replacement, there are still a few different ways City can go about the transfer.
If Man City want an economical option, I'd recommend Sander Berge. There are a lot of question marks surrounding the Norwegian but, against the advice of my colleague Louis Jacques I will make the recommendation nevertheless. Most players on this shortlist would be extremely expensive and, when looking at the Long Shots category there are not too many names I'd think could make a big impact. Genk would expect a lot in return for their prodigal midfielder, but I would be surprised if that price was anything over €15 million.
For a more middle-of-the-road player, I'd suggest Uruguayan star Lucas Torreira. I have Sampdoria's defensive midfielder as a Big Gun, which means I hold him in high regard, but I don't think he'd be extremely expensive. Torreira has made it quite clear that he will one day search for pastures anew, which means that Sampdoria should prepare to let him go soon. He's one of the most fantastic defensive midfielders in Europe already and would add a lot of steel to the post-Fernandinho future in Manchester.
Finally, if Man City would like to really splash the cash then I believe they'd be hard-pressed to find a better option than Napoli's Amadou Diawara. Even though he's not getting much playing time this season, Serie A's leaders would be silly to let him go for less than a large fee. Diawara is absolutely phenomenal and one of the best youngsters in the world. His passing, composure, and athleticism would be a great addition to Pep Guardiola's side. When the Guinean stepped up and converted a high-pressure penalty against City in the Champions League, I began to understand. I began to understand that not only does Diawara have some fantastic technical and physical attributes, but he's one of the most confident and intelligent young players in world football.
Amadou Diawara vs. Genoa

One of the best controllers in Italy dictated the game to keep Napoli top of Serie A.pic.twitter.com/QHBSM9BqAO

— EiF (@EiF_Highlights) October 26, 2017